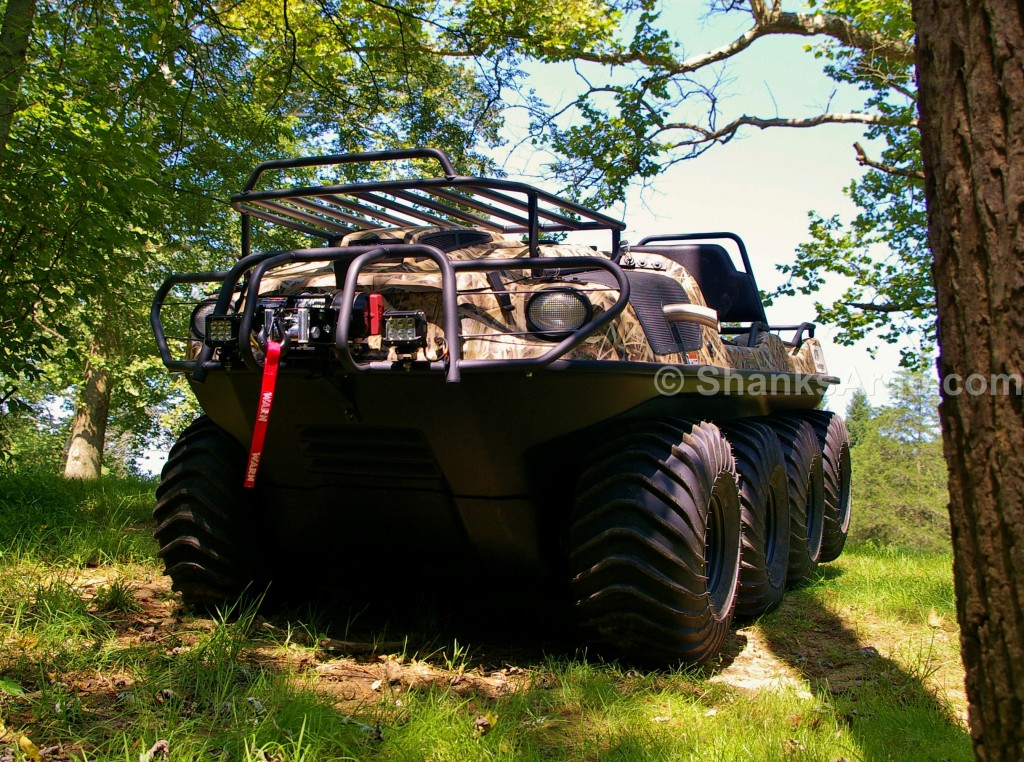 Even if you have experience with off-roading and boating, making the jump to an Argo can be intimidating. Almost everything about these vehicles is unique, from their hull construction to their steering system. Despite these differences, it doesn't take much to get the hang of operating one of these vehicles. These tips will have you driving your amphibious ATV like a pro in no time.
Tire Pressure
On an amphibious ATV, the axles are fixed, so the tires act as the suspension. Argo's tires are designed to run at very low pressures, maximizing flex and traction. These tires should have between 1.5-4 psi depending on ground conditions. Adding air increases buoyancy in water. Reducing air provides better grip on soft surfaces.
Skid Steering
If you've driven a skid steer or a ZTR mower, you have some idea how Argo's steering system behaves. The handlebars don't change the angle of the wheels. Instead, they activate brakes mounted between the chain drive and the transmission. This slows down the wheels on one side of the vehicle, letting the other side overtake it. This makes the XTV turn. There are a few quirks with this steering system:
– Skid steering turns the vehicle on its axis. This makes the rear of the vehicle swing out in turns. Make sure there's plenty of space around the rear outer corner of the vehicle before making a sharp turn.
– When you turn the handlebars, you're always breaking the same wheels. You need to turn the bars in the same direction to turn whether you're going forward or backward.
– All 8 wheels are powered 100% of the time, which normally causes scrubbing. Skid steering also causes scrubbing as the braking wheel or track slides on the ground. However, the ground pressure of an XTV is so low that the tires glide over surfaces. This keeps handling predictable, even on pavement.
– Since there's no steering rack, there's also no bump steer. This makes an XTV easier to control on rough surfaces than an ATV or a 4×4.
Depending on your model, your XTV will be equipped with a standard or Admiral transmission. Standard transmissions apply 100% of the braking force to the inside wheels when turning. To turn, you need to steer in sections.
Admiral transmissions gradually apply braking force as you turn the handlebars. This makes turning more like a traditional vehicle. If you want to make a tighter turn, just turn the handlebars further.
APS steering uses a spring system to return the handlebars to center when you let off of them in turns. APS is included with the Aurora and 2020 and later Frontier. With other models, you have to center the bars manually. Leaning the handlebars slightly left or right can engage the steering brakes and make them overheat, even if they aren't braking enough to make the vehicle turn.
Using Low Range
By slowing down the vehicle, your Argo's low range gear also increases the difference between inner and outer wheel speeds when braking. Admiral transmissions spin the inner wheels backwards when the handlebars are at full lock. Low range should only be used when you make a tight turn. Use the high range gear for all other driving, including towing and hill climbing.
Operating on Water
For the most part, you should treat your amphibious ATV like a boat when it's in water. The difference comes from how an Argo moves through the water.
Argo's standard tires have treads designed to act like paddles in the water. Tracks and AquaTorque tires do not have this paddling ability. If you have either of these fitted to your XTV, do not go into deep water unless you have an outboard motor installed. Keep the water level below the top edge of the hull.
The tires can propel the vehicle to a top speed of 3 MPH. Spinning the wheels faster once you reach this speed will only splash more water. Steering inputs are slower on water than they are on land. You should always carry a paddle for quick maneuvers, and to move your vehicle back to shore if it stalls.
We Make it Easy to Own an Argo
Shank's Argo is a major dealer with years of experience selling and servicing all types of outdoor equipment. We can help you find the right XTV to fit your needs, whether you want one for work or for fun. Want to add some accessories? Need to make some repairs? Have our service department take care of it, or do it yourself with parts from our massive warehouse. When you need anything Argo, stop by our shop at 4900 Molly Pitcher Highway in Chambersburg, PA. You can also visit us online at www.shanksargo.com. Our website lets you see the vehicles we have in stock.