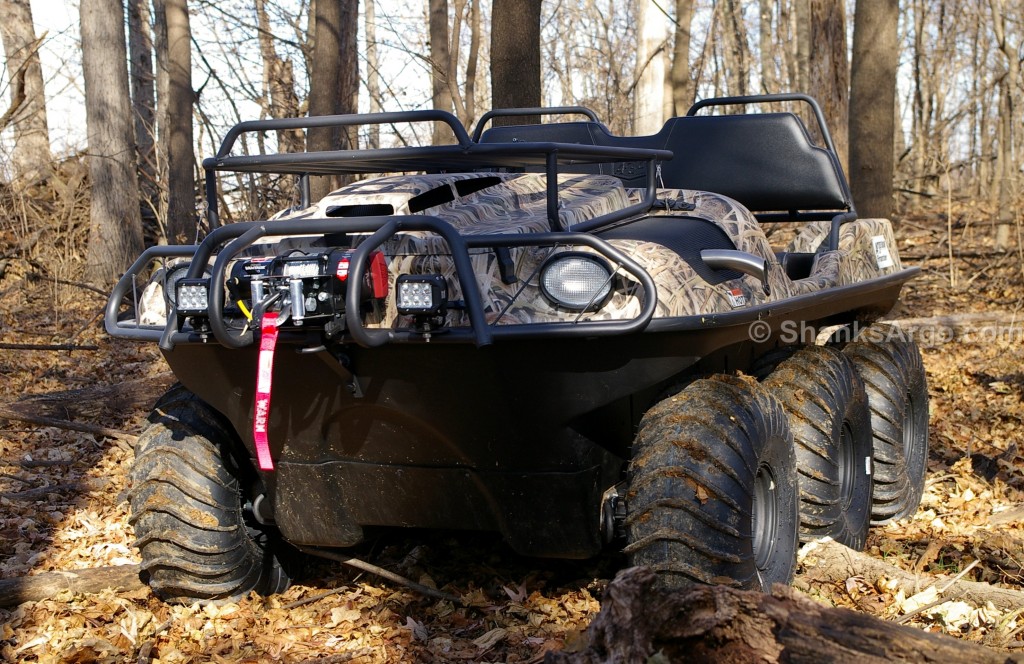 Argo's XTVs can go almost anywhere, making them a great choice for backwoods exploring. If you're considering a lengthy excursion, these tips will help you plan a trip around your vehicle.
Researching the Area
Peak temperatures, insects, and weather can make a major impact on your comfort level and your XTV's performance. Sandy desert areas will have extremely high surface temperatures, while wind chill can turn cold temperatures into dangerous conditions.
XTVs don't fit neatly within a single vehicle classification, so be sure to find out how it's categorized in with local regulations. Will you need a separate boat permit for amphibious use? Are you allowed in areas where other vehicles are banned? Can you go into the water at any location, or are you required to use a boat dock?
What to Pack
Using an XTV doesn't change the necessities you'll need to take for your trip. Plan for food, water, first aid and camping equipment like you would any outdoor excursion.
Having a few basic tools on hand can make the difference between a successful trip and a breakdown in the wilderness. You should have everything you need to remove the firewall, lubricate the drive chains and repair or replace a flat tire.
Remember that air will blow around you while driving your XTV. When traveling in cold climates, you'll need clothing that will compensate for this wind chill.
Weight
While your planning may not be as stringent as a lightweight backpacker, staying below your XTV's maximum weight is critical for stability and amphibious performance. If you've added accessories, be sure to subtract them from the weight limit for your vehicle. These weights can be found in the accessory owner's manual and most items are also listed in the XTV owner's manual.
Most items can be weighed using either a postage or luggage scale. Carrying liquids? Here's what they weigh:
Gasoline: 6 lbs. per gallon
Diesel: 7.15 lbs. per gallon
Water: 8.35 lbs. per gallon
If you need to carry more than you can strap to your XTV, consider towing an amphibious trailer.
Outfitting Your XTV
If you've been pondering some accessories for your vehicle, now would be a good time to add them so you can make your excursion more livable.
The chains need to be oiled every 10 hours of operation, so you may need to service your chains if you're on a lengthy trip. By adding an automatic oiling system, you can keep the chains lubricated without having to open up the vehicle or carry extra tools.
A windshield will cut down significantly on wind when you're driving, and an enclosure will keep temperatures and sun exposure under control.
Additional lighting doesn't just help you see at night, it also provides lighting when you're setting up camp.
To free up cargo space, a mount can be added to carry a spare tire or a fuel can on the back of the vehicle.
Argo recently released a new muffler that bolts onto the tailpipe, cutting noise significantly. This makes all-day driving easier on you and your passengers.
Planning for Emergencies
Plan for slow travel. Even if your vehicle has no problem, sudden rain, snow, and wind can take its toll on you and your camp mates, extending your trip and making you more prone to accidents.
Ideally, both someone local to the area you're traveling and someone at home should know of your plans. This makes it easier to know when you're lost and helps rescue teams reach you sooner.
Make sure you have a way to communicate with the outside world. A satellite phone or radio can connect in areas that cell phones can't get reception, but keep in mind that satellite phones need a clear signal path to a satellite. They won't work in areas with heavy tree cover. Personal locator beacons should be kept on hand by everyone on the trip in case someone gets separated from the vehicle. These items can be pricey, but they can be rented from most outfitters.
When in Doubt, Travel with Experienced XTV Operators
Argo XTVs are a popular choice for touring and hunting companies across the continent. If you want to get your feet wet before going on your first solo trip, consider booking with one of these operations.
Make Sure Your XTV is Ready for Adventure
Are you looking to buy an XTV? Do you want to add some accessories to your Argo or need to have it serviced before your next trip? Visit the experts at Shank's Argo. We're one of the largest Argo dealers in the East, and we've helped everyone from hobbyists to professionals with their equipment since 1984. Stop by our shop at 4900 Molly Pitcher Highway in Chambersburg, PA. Want to schedule a test drive? Check us out on the web at shanksargo.com.