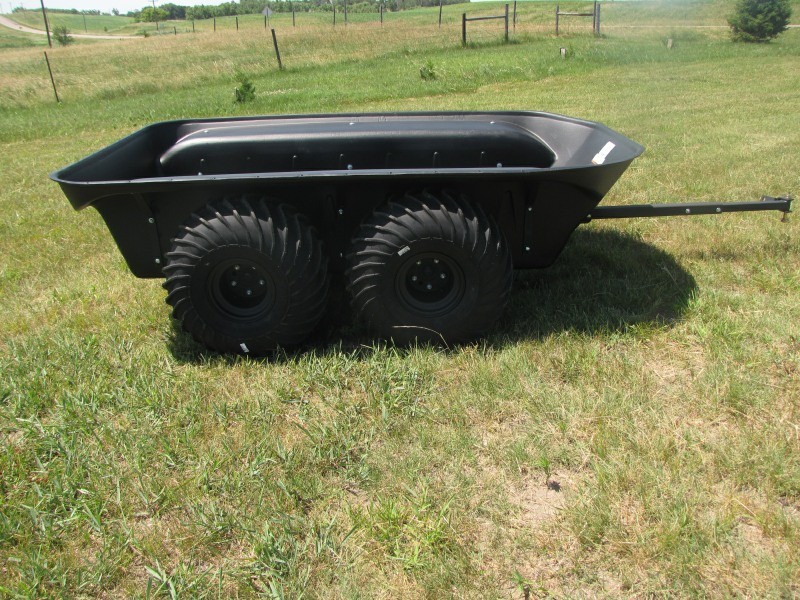 How do you tow with a vehicle that can go pretty much anywhere? Your Argo amphibious ATV has a trailer hitch and a sizable towing capacity, but it's easy to run into trouble when you can pull a trailer to places it wasn't designed to go. Here's what you need to know about towing with your Argo from picking the right hitch adapter to preventing a rollover.
What Do I Need to Tow a Trailer with My XTV?
Recent models come with a two-inch receiver hitch from the factory. Argo also makes a hitch kit that lets you tow with early Vanguard and Frontier models.
This receiver is a Class 3 hitch, which gives it a GTW rating of 8,000 lbs. However, the towing capacity of your vehicle is well below this rating. Frontier 6×6 and 8×8 models can tow up to 1,200 lbs, the Aurora can tow up to 1,800 lbs, and the Conquest Pro can tow up to 2,000 lbs.
Any off-the-shelf two-inch ball mount will work with the receiver. Argo recommends using a swivel hitch with their vehicles, especially if you're towing one of their amphibious trailers. This allows the ball to swing left and right, keeping the hitch from twisting while towing a trailer on uneven terrain. A pintle (military) hitch allows more movement, but in this application, it doesn't offer much of an advantage over a ball hitch.
Amphibious ATVs don't have wiring for trailer lights. In most areas, you'll need to add a Slow Moving Vehicle (SMV) sign to your trailer when towing it on roadways.
Can I Tow a Trailer Through Water?
Argo makes amphibious trailers specifically for this purpose. They use the same hull, axle and wheel design as their XTVs. As long as they're loaded correctly, they will float.
Do not pull any other type of trailer through water if it will submerge the axles. Standard trailers aren't engineered with hydrodynamics in mind. Once the flat sides go into the water, they can catch the current, dragging your vehicle with it. Even if you make the crossing safely, there's a good chance that you will ruin the wheel bearings. The seals on standard trailers aren't watertight, washing away grease and creating rust.
What Tire Pressure Should I Use Off-Road?
You can get added traction by lowering the air pressure in trailer tires, but the effect isn't as drastic as it is with vehicle tires. After all, the trailer isn't part of the drive system, and trailer tires have stiff sidewalls that don't flex easily. Peak traction can be achieved at 15-20 psi with most tires.
Argo amphibious trailers have the same tires as your XTV. While you may change the tire pressure on your vehicle to fit the terrain, trailer tires should be kept at 4 PSI. Again, these tires are there to keep the trailer upright and rolling, not contributing to traction.
Tackling Hills
The low gear on your Argo is there primarily to decrease the vehicle's turning radius, not pull the vehicle up inclines. Instead, try to maintain momentum for steep climbs. Likewise, try to keep a steady speed during descents. Sudden stops may cause the trailer to jackknife or flip over.
Using an Amphibious Trailer
Because they share the same hull and tire design, an Argo amphibious trailer has the same water and off-road capabilities as your XTV. There are a few things you should know to get the most from these trailers:
– The cargo capacity of these trailers is the limiting factor for what you can carry, not the tow limit of your vehicle. The four-wheel trailer can carry 600 lbs, while the 8 wheel trailer can carry 1,300 lbs. The universal mounting system adds rails to the 8 wheel trailer for bolting down equipment. It can support up to 550 lbs.
– Load cargo onto the metal plates in the base of the trailer. The fenders don't have a support structure, so they'll bend underweight.
– Like your XTV, these trailers have drain plugs at the rear of the hull. Make sure they're secure before entering the water. Remove them after water crossings to drain off any water in the bottom of the trailer.
– When traveling on land, weight should be biased toward the front to put weight on the tongue. You may need to shift the weight toward the center of the trailer to get it to float level in water.
We're Your Source for Everything Argo
Are you looking for the ultimate off-road vehicle? Is your XTV due for some maintenance? Do you want a trailer that can be pulled anywhere your Argo can reach? Shank's Argo doesn't just sell Argos, we offer the service and support you need to get the most out of these vehicles. Come visit us at 4900 Molly Pitcher Highway in Chambersburg, PA. That's just one mile from I-81.
Check out our current vehicle stock and schedule a demo at our website, www.shanksargo.com.