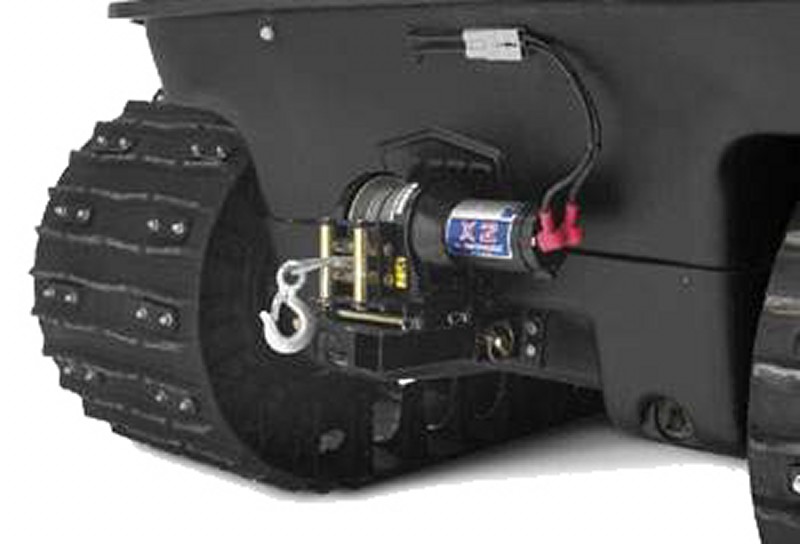 Want to really get out into the wild? Argo's XTVs are the perfect vehicles for work and play in remote locations. With the right accessories, you can outfit your model for longer excursions and easier transport.
Gas Can Carrier
This carrier mounts to the rear of the vehicle and has a spring-loaded bar that grips gas cans of varying sizes. This design can handle a container that's up to 11 inches long and 16.5 inches wide, which is enough space to accommodate most 5 gallon containers.
Spare Tire Carrier
Worried about flats when you're miles from civilization? This carrier can hold an 8 or 9-inch rim fitted with a 24 or 25-inch tire. It mounts in the same area as the outboard motor mount, so only one attachment can be used at a time.
Winch
Argo worked with Warn to adapt their Provantage line for use with XTVs, providing an easy way to install a winch rated at 3,500 or 4,500 lbs. to the front of your vehicle.
If you already have a winch, there are plenty of ways you can upgrade it: replace the steel cable with lighter, harder-wearing synthetic rope, get a hitch mount so it can be attached to the back of the vehicle, or add a wireless remote system to control the winch from up to 50 feet away.
Amphibious Trailer
How do you take extra gear with you when you're in a vehicle that can go anywhere? Argo's amphibious trailers use the same tires and hull design as their XTVs, so they can follow your vehicle over land and water. There are two versions available: the four-wheel model can carry up to 600 lbs, while the 8 wheel version can handle up to 1,400 lbs.
These trailers are compatible with Argo's universal mount system, so you can turn any trailer into a mobile workstation. Driving through snow and ice? Plastic tracks and ice teeth can be added to help the trailer float over soft snow and remain stable on ice and hard pack snow.
Outboard Motor Mount
This mount lets you fit a sub-10 hp long shaft outboard motor to the rear of your vehicle, greatly increasing speed and control when traversing large bodies of water.
Helicopter Lift Kit
Need to go somewhere really remote? If your XTV has 9-inch rims and 25-inch tires, you can attach these hooks to the front and back wheels, providing anchor points for helicopter transport.
Get Your XTV Ready for the Great Outdoors with Help from Shank's Argo
Whether your workplace is in the wilderness or you're going on an epic excursion, you can get everything you need to prepare your XTV for the trip from Shank's Argo. Thanks to over 30 years in the outdoor equipment business, we have the expertise to help you get the most out of your amphibious ATV. Visit our shop, located at 4900 Molly Pitcher Highway in Chambersburg, PA, just off Route 11, or schedule a test drive on our website, www.shanksargo.com.