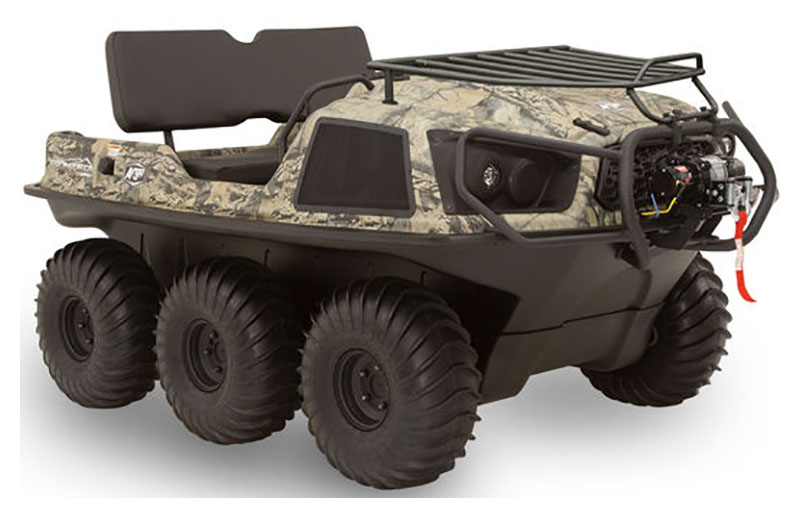 Are you finding that trucks and side-by-sides don't have the capabilities to support your event or adventure touring business? Maybe it's time to upgrade to an Argo. These amphibious ATVs have all the space and towing capacity of the largest UTVs, but they're also able to handle terrain and water that will stop lesser vehicles. Add in top quality components, and you have a vehicle that's up to the most demanding commercial tasks.
What Sets an Argo Apart from Other Utility Vehicles?
An amphibious ATV is more than just a side-by-side that can float. From the steering to the wheels, Argo takes a different approach to vehicle design, giving their XTVs unparalleled off-roading capabilities.
This starts with the tires. Argo uses 6 or 8 wheels on their XTVs, and each wheel is fitted with a giant, low pressure tire. This spreads out the weight of the vehicle, keeping ground pressure low enough to drive effortlessly over sand, mud, and snow. The tires also act as the suspension, eliminating the need for long travel suspension components that raise the center of gravity. The result is a superior climbing performance with a greatly reduced rollover rate.
Instead of using motorcycle engines, Argo powers their vehicles with top-of-the-line industrial engines from Kohler and Vanguard. These are the same engines used in commercial tractors and the largest mowers, so they have millions of hours of proven reliability in the field.
Argo's unique brake-steering transmissions are built by their parent company, Ontario Drive and Gear. While ODG may not be a household name, they provide drivetrain components to automotive, heavy equipment and train manufacturers around the globe. The skid steering system gives these vehicles extremely small turning circles, yet their handlebar-based controls are easy to learn for people used to rack-based steering. All wheels are driven 100% of the time, maximizing traction.
Every vehicle is rigorously tested to ensure reliable performance from -40 to 104 degrees F, so they work in all climates.
Which Models Should I Look at for My Business?
Need to carry people? The new Aurora has forward-facing seating for up to four people. The Conquest Outfitter has rear facing seats, fitting up to 6 passengers.
Need to carry supplies? The Conquest Pro line seats two people, leaving the back of the vehicle open for cargo. These XTVs can carry up to 1,170 lbs. of cargo on land, and have a towing capacity of 2,000 lbs.
Providing medical services? The Aurora-based Responder comes pre-built for first aid. This includes a built-in stretcher rack. Argo offers a long list of optional equipment, including head restraints, lights and helicopter-ready stretcher baskets, letting you tailor your vehicle to your needs.
How are These Vehicles Used for Support?
Expeditions
Argo's Huntmaster series was created at the request of hunting expedition operators who wanted something pre-built for their needs. These operators realized that Argos aren't just good replacements for trucks and UTVs, they can also reach places that are otherwise only accessible on horseback. This can mean huge savings on upkeep for remote cabins and base stations without reducing the operation's reach. Huntmasters are available with two Mossy Oak camo patterns, as well as popular equipment including front cargo racks and winches. Add an amphibious trailer, and you can tow up to 1,400 lbs. of extra gear without limiting your vehicle's off-road capabilities.
Outdoor Events
When you're working an event, you know one of your greatest enemies is mud. UTVs struggle to get traction on wet ground, especially when they're fitted with turf tires to prevent lawn damage. At the same time, mud increases the fall-related injury rate of attendees.
With an amphibious ATV, mud is no problem. The low ground pressure of these vehicles keeps them from tearing up the soil, while also letting them drive over mud. Support companies have found that they're a great complement to their other support vehicles. When one of these vehicles gets stuck, they use their Argo to pull it out.
Sports Events
From cross-country marathons to motorcross races, an XTV can get to competitors and spectators, no matter where they may be. By being able to climb extreme grades and cross bodies of water, you can get to remote areas faster and reduce the need to walk to damaged equipment and injured participants.
Get the Vehicle You Need and the Support to Keep It Running
Shank's Argo isn't just a recreational dealer: we have over three decades of experience helping professionals with their outdoor equipment. If you're looking for a better way for your adventure company to move gear and people, come see us. You can visit our shop at 4900 Molly Pitcher Highway in Chambersburg, PA, or see our current inventory at www.shanksargo.com. We also have a massive parts warehouse and a service department that can fix your Argo and install accessories.