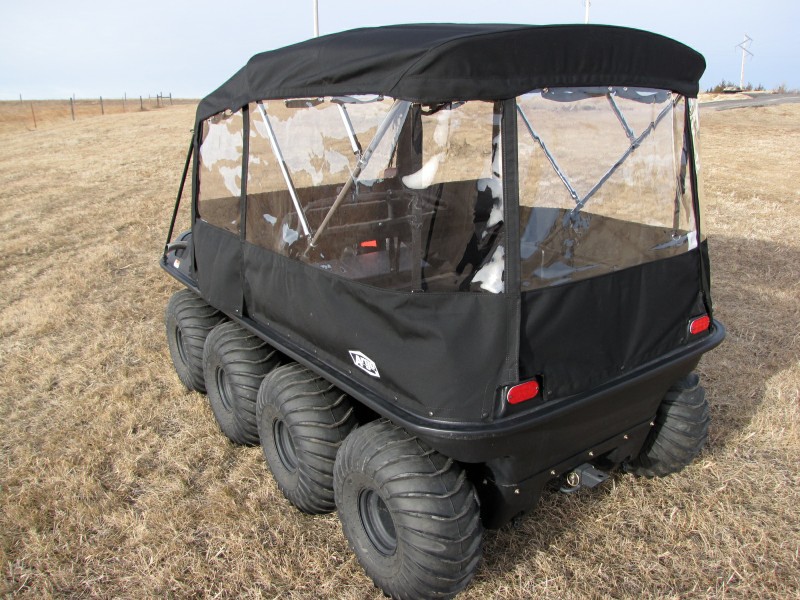 Argo's XTVs are built to tackle the most difficult terrain on earth, making them the go-to vehicle for everyone from hunters to first responders. Facing challenging landscapes also means dealing with challenging weather conditions. That's why Argo makes a range of protection options to make your XTV comfortable in heat, cold, rain and snow while also shielding you from mud, water, and sand tossed up by the tires.
Windshield and Wiper
The fold-down windshield is made out of scratch-resistant acrylic housed in an aluminum frame to keep weight down. Two props support the windshield when in use, while a fold-over hinge allows it to be folded down or removed from the vehicle completely.
Argo offers a wiper kit that mounts to the top of this windshield. 2010 and later models are pre-wired for the wiper and even come with a switch on the console: installation is simply a matter of mounting the kit's motor and wiper and plugging it in.
Convertible Top
This top runs the full length of the cabin, protecting all passengers. It's designed to be used with or without the side curtains, letting you choose between maximum protection or maximum airflow while still retaining protection from rain and sun. When it's not in use, the fold-down design of this top allows it to be carried inside a boot cover or removed entirely. The fold-down windshield needs to be installed and propped up to support the front of the top.
Convertible Half-Top
Using the back of your XTV for cargo? This half-top covers only the front of the vehicle from the backrests forward to protect the driver and front passenger. The back is left open for easy access to the cargo area, while the side doors are removable for times when you need more ventilation. Like the full top, this needs to be installed over a windshield.
ROPS
While XTV rollovers are unlikely thanks to their low center of gravity, a rollover protection system is still required for some work locations. Bars are available to protect the front passengers in Conquest models without hindering the use of the cargo bed, as well as full cages that protect both front and rear passengers in other XTV models.
Hard Top
This composite to is designed to be permanently mounted on top of the ROPS bars, providing durable weather protection. Versions are available to fit both Conquest and full coverage bars.
Canvas Sides
These covers are designed to work with the ROPS, hard top and windshield, offering the same side-to-side weather protection as the soft tops. Like the hard top, Argo offers the sides as kits to fit either type of ROPS.
Want to Make Your Argo More Comfortable?
If you're looking to upgrade the cab of your XTV, visit the experts at Shank's Argo. Our staff has helped outdoor power equipment owners for over three decades, and we're one of the largest dealers in this part of the country, so we know what equipment will best fit your needs. Stop by our showroom, located at 4900 Molly Pitcher Highway, Chambersburg, PA. We're one mile east of I-81 from Exit 10 to Marion. Not in the area? We ship Argo parts and accessories across the U.S. and Canada. Visit us on the web at Shanksargo.com.