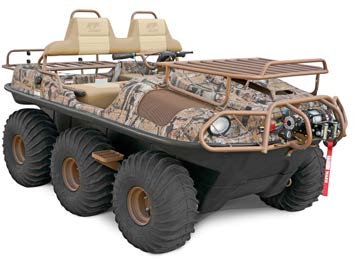 ARGO has changed quite a few things in their new 2016 model changeover. In addition to the many new vehicle features, there are also different model types to choose from in this year's 2016 model.
ARGO Dual Beadlock Solution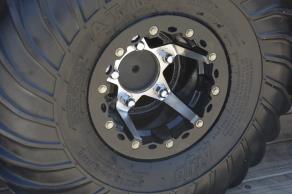 In the new 2016 model ARGO has decided to include a dual bead lock solution which gives you more comfort when riding in the 2016 ARGO model. There are many benefits that come with the new dual beadlock solution that is included in the 2016 ARGO. Some benefits include the following:
 The axles are 30% stronger in order to add durability to the vehicle.
They allow for less driver fatigue so they can focus on the work they're doing.
Users can operate with tire pressure that is as low as 1 PSI.
Allows for optimum speed over rough terrain.
Not as much shock loading to the vehicle in challenging environments.
Can safely operate vehicle even with a fully deflated tire, reducing the need to change your tire when you're in the field.
Reversible rims allow wheels that can sit closer or further out from the vehicle, this simplifies track installation.
ARGO's dual beadlock solution is available as a build option on all 8×8 models (excluding the XT Series)
Outstanding Anti-Corrosion Paint System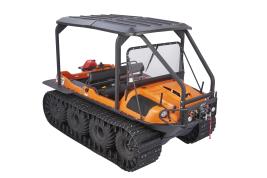 ARGO partnered with Henkel, a popular manufacturer of coatings to provide anti-corrosion on all new vehicles. It's a waterborne system that provides coverage of all metal parts, even in the hardest to reach places. It also meets all environmental requirements. The anti-corrosion paint system has been included in the new ARGO vehicles to increase their lifespan.
Miscellaneous Improvements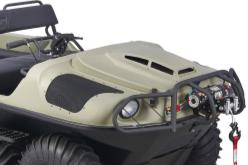 ARGO has created a new orange color that is essential for EMS personnel and first responders. There's also a new olive gray color scheme to give owners more choices than they've had. Another new add-on in 2016 is a 12v/USB power outlet for people to charge their phones, use their GPS, and play digital media. Additionally, new ride-friendly seating with nicer and more comfortable cushions and backrest. The stitching and embossing has been refined with the ARGO logo. There's also a new entry step, making it easier for riders to get in and out of the vehicle (excluding 8×8 XT models).
New ARGO Models

ARGO Scout 6×6
There are three new wilderness series vehicles available as part of the 2016 model year. One of the vehicles is the ARGO Scout 6×6 which features the Mossy Oak Breakup Infinity Camo pattern for outdoorsmen, hunters, and others who require more stealth in their environment. The ARGO Scout 6×6 is a very reliable and powerful vehicle that was designed for serious hunters looking to explore remote hunting grounds. This vehicle offers many different unique options and features as standard equipment including:
Upgraded seat cushions as well as a high front seat backrest pad featuring refined stitching and custom embossing of the ARGO logo
2-position, removable, fold down rack for extra cargo storage
Removable hood rack capable of carrying cargo and small game out of the bush
Enhanced brushguard provides outstanding protection for the front end of the vehicle, absorbing impacts from off-road hazards such as brush, branches, and more
Side entry steps to assist in vehicle entry and exit
USB power outlet, for riders to charge their phones, play digital media and utilize their GPS
Enhanced lighting package featuring dual high powered floodlights
Interior lighting package to illuminate front driving area and vehicle console
Bilge pump
WARN power winch
FREE 23 hp engine upgrade
ARGO Outfitter

The second wilderness series vehicle is the ARGO Outfitter. The ARGO Outfitter is designed for the fall hunting season and is a hunter's fantasy come true. Along with being designed for the fall hunting season it was also designed for lodge owners, hunt camp operators, guides, etc. Features included in the new ARGO Outfitter are similar to the features that come with the ARGO Scout 6×6:
Upgraded front and rear seat cushions as well as a new high back front seat backrest pad featuring refined stitching and custom embossing of the ARGO logo
Angle mounted four-gun Sure Grip gun rack to ensure the safe transportation of weapons to the best hunting grounds
Removable Hood Rack capable of carrying cargo and small game out of the bush
Enhanced Brushguard provides outstanding protection for the front end of the vehicle, absorbing impacts from off-road hazards such as brush, branches, and more
Dual rear entry step to assist in vehicle entry and exit when outfitted with gear, backpack and guns
Heated Hand Grips for both passenger and driver for those cold, longer days out in the bush
USB Power Outlet, for riders to charge their phones, play music and utilize their GPS
Enhanced lighting package featuring dual high powered front LED headlamps and floodlights
Interior lighting package to illuminate front driving area, gun rack, entry step, and vehicle console
12-inch handrails for extra cargo storage
Dual bilge pumps
ARGO Scout 8×8
For hunting enthusiasts that can benefit from an upgraded 26 horsepower engine and additional cargo storage, the newest in the series is the ARGO Scout 8×8. This XTV is a great choice for exploring new hunting grounds and overcoming rough terrain, like rocky canyons and dense woods. Feel secure knowing the ARGO Scout 8×8 will get you to your prime hunting spots and back. This model includes a number of unique features as standard equipment:
3,500 lb. WARN power winch
Full length skid plate to provide added insurance against lower body damage
Robust brush guard provides outstanding protection for the front end of the vehicle, absorbing impacts from off-road hazards such as brush, branches, and more
Bilge pump
Dual side entry steps to assist in vehicle entry and exit when loaded with gear, backpack and firearms
Interior lighting package to illuminate front driving and passenger area and rear cargo area
Front and rear bearing extensions
12V / Dual USB power outlet, for riders to charge their phones, play digital media and utilize their GPS
Brake lights
As part of the trim package, there's a number of model specific accessories available:
Premium front and rear seat cushions as well as a front seat backrest pad featuring refined stitching and custom embossing of the ARGO logo
Removable 2-position, fold down rear rack for extra cargo storage
Removable hood rack capable of carrying cargo and small game out of the bush
Enhanced lighting package featuring dual headlamps and high powered LED floodlights
All standard accessories are compatible except:
Storage Cover, Utility Storage Pouch, Utility Rack
Windshield Wiper Kit (When installed on windshield, hood rack must be removed to allow folding down for transportation purposes)
Outboard Motor Bracket, Gas Can Holder, Tire Holder, Handrails can be used with rear cargo rack removed