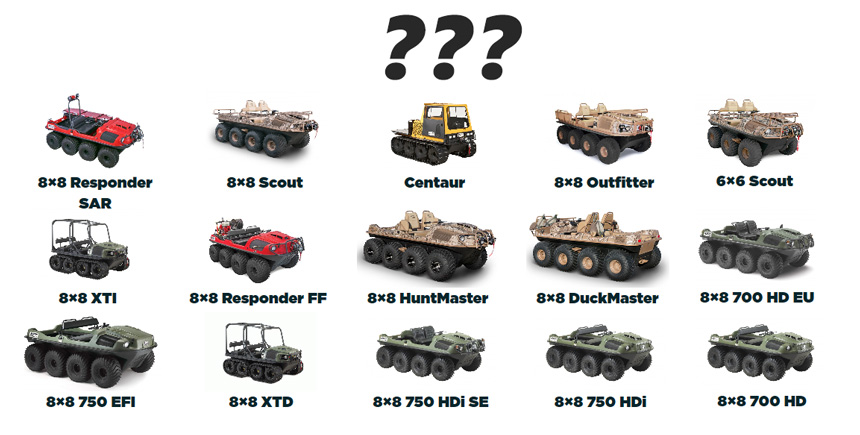 If you're considering the purchase of a new ARGO XTV, you may be overwhelmed by the wide range of capabilities and design options available currently. ARGO has done a great job of trying to match customer needs with well thought out engineering by providing vehicles for any commercial or personal application. Here are a few questions to ask yourself to help narrow down your search for the right XTV:
How Will It Be Used?
Probably the first most important factor about selecting an XTV is making sure you get something with the right functionality. ARGO's new market-based line up breaks their XTVs into eight categories for intended use: wilderness, lineman, 1st responder, recreation, military, exploration, reclamation, and agriculture. Each of these designations represents a configuration and accessory package that is designed for the specified use whether that's sport hunting or environmental cleanup. The differences in options will have a direct impact on the number of passengers and the amount of weight that the XTV can carry.
How Will It Be Transported?
Another concern for any XTV buyers will be how to transport the vehicle to the space it's needed. The overall size of the vehicle itself will determine how big of a trailer and truck are required for transport. If you already have a truck and trailer set up, you will need to make a choice based on the size limitations you already have in place.
How Much Power Do You Need?
In addition to the market breakdown of ARGO's XTV designs, they also feature a unique Platform based review of each model. This is broken into three categories: E, H and XT. The E series features the 6×6 and 8×8 Frontier EFI and the 8×8 Avenger with the 34-100 or 34-100 O/D transmissions. The H series is the next step up containing the 6×6 HDI 750, and the 8×8 HDI 700 and 750. The H series XTVs have the 34-200 and 34-200LS transmissions to power through even more complicated terrain. Lastly, the XT is comprised of the XTI and the XTD options. The XTD runs on a Kohler Lombardini diesel engine, while the XTI is the electronically fuel injected alternative. The amount of power you need will ultimately be determined by how many passengers you are carrying at any given time and how much cargo needs to be transported. In addition, differences in fuel types can have an impact due to availability at remote work sites.
Price
Whether an ARGO XTV is an investment in your job site, or a recreational vehicle for exploration, hunting and fishing, everyone wants to know about pricing. The XTV comes in slightly more expensive than a traditional ATV, but the huge selection of accessories and the huge boost to utility should be more than enough to overcome concerns about return on investment. Buyers who spend their money with ARGO will get every penny back in the form of raw power and sheer capability as they're able to reach places nobody else could go, restore land to its natural state, rescue stranded hikers or workers with ease, and assist with disaster relief. You'll be able to move more people and equipment faster than any other utility vehicle at a fraction of the cost of other heavy equipment.