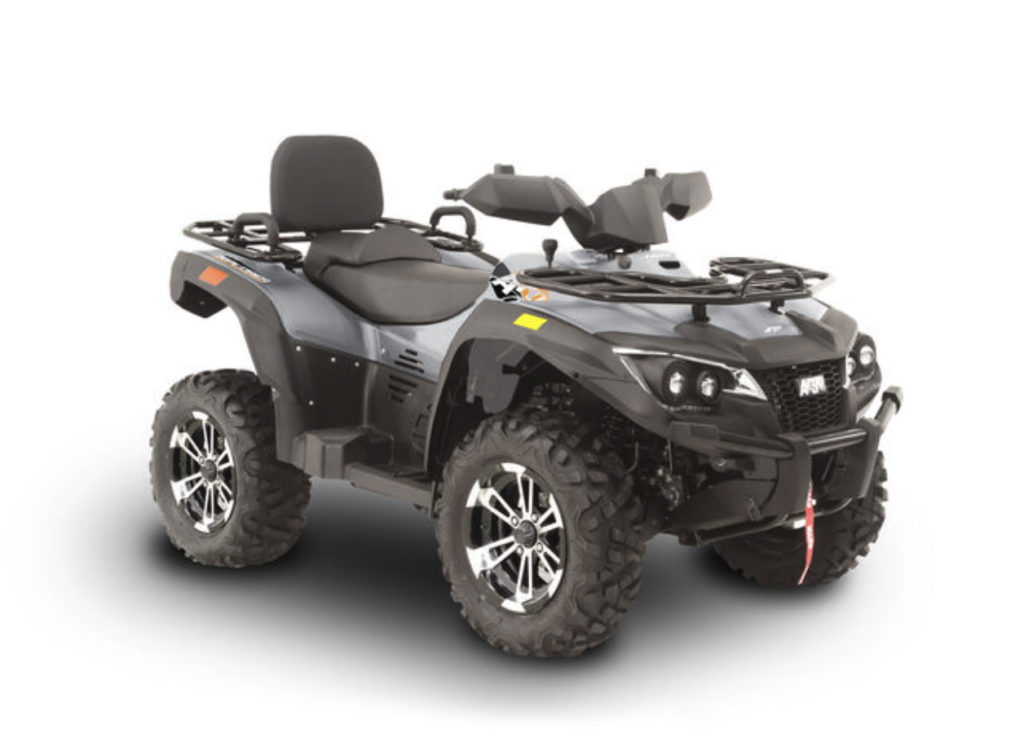 There are two problems with most utility ATVs. They aren't fun to use, and you have to spend a lot on accessories to make them usable. The Argo XRT 1000 LE avoids both of these problems, delivering a well-equipped vehicle with an advanced suspension, high performance tires and loads of standard equipment. The result is something that is as well suited to trail riding as it is moving cargo around rough terrain.
Performance
Power comes from a 997cc liquid cooled V-twin equipped with electronic fuel injection. An auxiliary fan helps keep things cool in extreme weather and at low speeds. To help with long descents, the CVT has an engine braking system that keeps the engine connected when off throttle. The drive system has two and four wheel drive modes, as well as an electric locking rear differential. Thick plastic skid plates protect the drivetrain, and won't dent on impact like metal plates.
Electric power steering comes standard on this model. It uses Argo's Tri-Mode Speed Sensing system, which adjusts assist automatically. This system also lets the operator choose the amount of assist they want, with settings for maximum, minimum and no assist. The digital gauge cluster tells you everything you need to know about the XRT's operating condition, including drive and power steering modes. Hand guards come standard.
The XRT 1000 LE has 11.6 inches of ground clearance, with 8.7 inches of suspension travel up front and 9.3 inches at the rear wheels. It uses independent A-arm suspension for all four wheels. The shocks are mounted to the lower A arms for better performance and a lower center of gravity. Aluminum wheels and aggressive 26 inch Maxxis off-road tires tires come standard.
Utility
This ATV has a two inch hitch receiver, and a towing capacity of 1,300 lbs. For on-board storage, there are two steel racks. The front rack can carry up to 120 lbs. of gear, while the rear rack supports up to 240 lbs. Need to pull something out of a jam? A 3,000 lb. winch comes standard. It's integrated into the bumper to protect it from impacts. If you want to protect the entire front end, a front brush guard is available.
The XRT 1000 has seating for two people. Front seat height is 36.1 inches, and a wide foot rest makes it easy to get on. The passenger's position is slightly elevated and comes with a back rest and hand rails.
The 2022 model is only offered with Graphite Metallic paint. This machine measures 92.1 x 49.4 x 49.8 inches.
Does the Xplorer XRT 1000 LE Sound Right for You?
Shank's Argo is a full service dealer for Argos. We carry all of their vehicles, including traditional ATVs, amphibious ATVs and side-by-sides, and we offer the parts and service you need to keep your Argo running. Visit our showroom at 4900 Molly Pitcher Highway in Chambersburg, PA. You can also see our inventory, schedule a demonstration, and order items for your Argo at www.shanksargo.com. We ship parts and accessories across the United States and Canada.