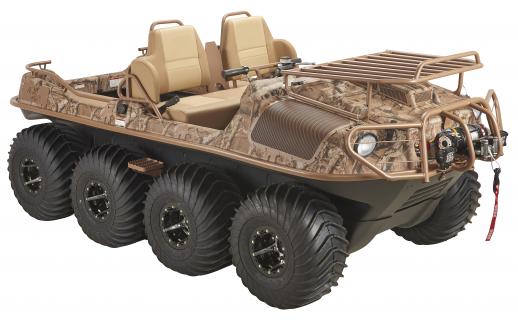 When you're tracking game, sometimes every second counts, and sometimes it's a waiting game. Argo's Hunt Master R XTV is built for the chase and those long hours of hiding, giving you the means to cross any terrain or water in any weather conditions while blending in while you wait for your game to approach.
Water, Cold, Heat, or Mud — Nothing Stops the Hunt Master R
The Hunt Master R is powered by Kohler's Aegis ELH 775 V-Twin. This motor has been proven in a wide range of industrial equipment, and parts are readily available almost anywhere. It's liquid cooled and fuel injected, providing reliable performance in cold and hot climates. Argo offers two gearing choices: HT for hill climbing performance with a top speed of 17 mph (27 km/h) or STD for balanced performance with a top speed of 20 mph (32 km/h.)
XTVs use tank-like steering, braking the inner wheels instead of swiveling the front wheels on a steering rack. While most vehicles with this type of control are difficult to learn, Argo makes it easy with the Admiral transmission. Instead of using a pair of levers, the transmission automatically adjusts braking force as the driver turns a set of handlebars, making it steer like an ATV. A cooling fan is included to keep the braking system working smoothly under the most extreme conditions.
The four axles extend out of a polyethylene hull. There's no suspension on the Hunt Master, which makes the seals for the axle openings simple and reliable. Shocks are absorbed by the massive tires which are designed to run at extremely low pressures. The tires are attached to aluminum beadlock rims that keep the tires from separating from the wheel, even when facing high lateral forces. The suspension-less design also keeps the center of gravity low, making it far less likely to tip than a UTV.
Combined, the tires and hull provide the buoyancy needed for the XTV to travel through water with the tire treads paddling the vehicle at speeds up to 3 mph (5 km/h.) The tires' wide contact patch gives this vehicle a ground pressure that's lower than a human footprint, letting it float on top of sand and mud, making it easy to travel across marshes and into and out of bodies of water.
This XTV can carry 910 lbs. (413 kg) including up to 6 passengers on land and 760 lbs. (345 kg) with up to four passengers on water.
Features
Argo packages the Hunt Master R with popular accessories to help you get the most out of your hunting trip. There's a brush guard up front and a skid plate stretching across the entire hull to protect the vehicle from bumps. Up front, a large cargo rack gives you a place to carry your game, and a Warn winch with a 3,500 lb. (1,588 kg) capacity to pull the XTV and other vehicles out if they get stuck. Upgraded seats make the vehicle comfortable on long drives and long periods sitting in blinds.
Colors
There's just one paint option for the Hunt Master R: Mossy Oak's Break-Up Infinity. The digitally photographed elements of this pattern give the appearance of depth, helping the vehicle blend into the terrain. This is paired with light brown paint on the rack and brush guard.
Accessories
Argo offers a wide range of accessories for their XTVs including everything from tracks to loops for helicopter transport. There are three accessories that should be of particular interest to Hunt Master owners: a gun rack that securely holds rifles in the cargo area, a mount for a sub-10 hp outboard motor for faster water travel, and an amphibious trailer that can be towed anywhere the XTV can go, giving you more space for equipment during long excursions.
Whether you're after waterfowl or big game, it's hard to beat the Avenger 8×8 Hunt Master R. It can go places ATVs and boats can't reach to keep up with your game. It's built to be reliable in any environment, and it's comfortable enough for the longest backwoods trips. That means less time worrying about your transport and more time hunting.