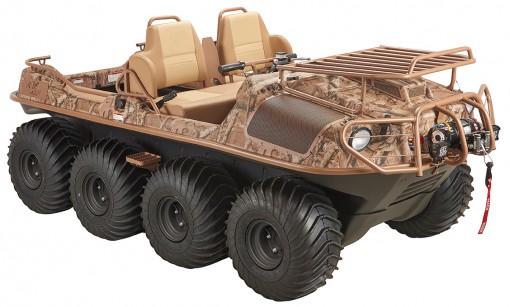 The go-anywhere abilities of Argo's XTVs make them great for getting to hunting spots, but with the right equipment, they can help you during the hunt as well. From waterfowl to big game, the Avenger 8×8 Hunt Master is built to help you keep up with your prey no matter what the conditions are.
The Argo Difference
Like all Argos, the Hunt Master doesn't have a spring suspension. Instead, it uses its giant tires to absorb bumps, keeping the axles fixed to ensure a tight seal around a boat-like hull. The massive size and number of tires spreads out the vehicle's weight, letting it float over mud and sand where regular UTVs and ATVs would get bogged down. Combined with the paddle-shaped treads on the tires, it can drive directly into water and travel through it, providing total access to your favorite hunting spots.
Performance
The 8×8 Hunt Master uses a 30 hp Kohler Aegis V-Twin. This motor is liquid cooled to withstand high temperatures and uses EFI for low fuel consumption to extend the driving range and provide easy starts when operating in cold weather. Argo builds their vehicles to work in temperatures ranging from -40 to 104 degrees F (-40 to 40 degrees C.)
Power is sent to all 8 wheels by an Admiral transmission. Steering is brake-controlled rather than using a steering rack, but this transmission design can vary brake pressure for fluid turns like a traditional off-road vehicle, and is even controlled like one through a set of handlebars. Argo offers the Hunt Master with standard gearing for a 20 mph (32 km/h) top speed or high torque gearing that increases mechanical advantage while reducing top speed to 17 mph (27 km/h.) Both versions have a low range for tackling steep hills.
The tires can paddle through the water, propelling the Hunt Master to a top speed of 3 mph (5 km/h.) If you want to move faster on water, Argo offers a mount for a sub-10 hp outboard motor.
Cargo
This model can carry up to 785 lbs. (356 kg) and four passengers on water. Drive onto land, and cargo capacity increase to 935 lbs. (424 kg) with a maximum of 6 passengers.
If you're on a long hunting expedition, getting your gear into the hunting area and your game out can be almost as difficult as the hunt itself. The Hunt Master comes with a large front-mounted rack for carrying your game, and the company offers an optional gun rack that secures your rifles in the rear cargo area.
Up front, there's a 3,500 lb. Warn Winch mounted to the front to pull the vehicle out if it gets stuck, or if you need to rescue a less capable vehicle.
Your Mobile Hunting Blind
The Hunt Master can drive into marshy areas and stay in place, letting you hide in duck blinds without getting in the water. The top of the hull is painted in Mossy Oak's Breakout Infinity camouflage and the racks are painted in a matching brown to help your vehicle blend into the environment, and upgraded seats keep you comfortable as you wait for your target to approach.
The Avenger 8×8 Hunt Master is built from the ground up for the needs of backwoods hunting. It can go places other vehicles can't, it can haul your game and hunting equipment, and it can serve as a mobile stand once you've found your site.