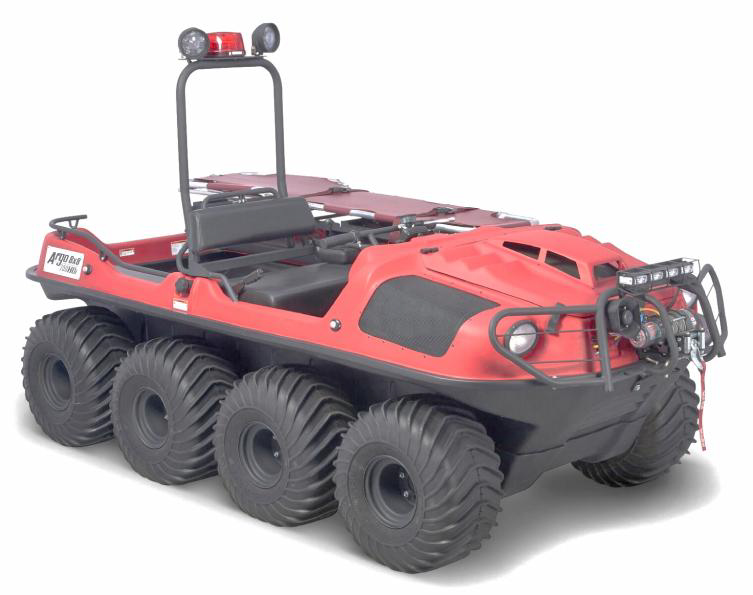 Argo XTVs bridge the gap between utility vehicles and boats, making them the most "go anywhere" of go anywhere vehicles. While most of their models are designed for having fun in the wilderness, this same flexibility makes them an excellent tool for rescue operations in remote areas. The Frontier 8×8 Responder S is built for this duty with mounts for a stretcher and accessories that can turn it into a mobile fire fighting rig and allow for transport by helicopter.
The Argo Advantage
The unique hull construction and paddle-fined tires of Argo's XTVs let them travel over both land and water. Their unique construction also gives them 9.5 inches (240 mm) of ground clearance and a 45-degree maximum climbing angle, so they can get just about anywhere. Even beach landings are possible, letting you travel through the water to remote islands and drive onto them without needing to switch vehicles, saving precious time when making a rescue.
The dual nature of the Responder S lets it do something few vehicles can: rescue people on frozen bodies of water. With so much rubber spreading the load, it can roll over ice that other vehicles would fall through. If the ice below the vehicle does crack, it will safely float on the water and climb right back out.
Standard Equipment
Aside from a 26 hp engine, the basic equipment is identical to the 8×8 S, including the skid plate, side step and bilge pump. This engine uses fuel injection for easy starting, and it's designed to work in temperatures from -40 to 104 F (-40 to 40 C.)
Along with the standard transmission, which gives the Responder a top speed of 19 mph (30 km/h,) this model can be equipped with a lower-geared High Torque transmission. This improves climbing ability under heavy loads, but decreases top speed by 2 mph (3.2 km/h.) With either transmission, water speed is limited to 3 mph (5 kph.) Both transmissions have a low gear to tackle the most difficult climbs. A 3,500 lb. Warn winch mounted on the front helps with extraction, whether you're pulling the Responder out of a rut or moving a stuck vehicle.
The Responder comes in red and orange for high visibility, and it has mounts for a Ferno #9 slide-in stretcher. This stretcher attaches on the right side of the vehicle, so when it's extended, it covers the seating on that side, limiting personnel capacity to three people. When folded, all six seats can be occupied. Total payload capacity is 790 lbs. (358 kg,) but the rear seats must be left vacant when crossing water. There's also a storage compartment for first aid supplies, which is accessible even when the stretcher is extended.
Accessories
Along with the included stretcher, the Frontier Responder S is designed to work with other Ferno equipment including the Traverse stretcher basket and their head immobilizer to keep the patient stable when on rough terrain. An oxygen bottle mount can also be added.
The Responder S can also be used to fight fires with a pump and foam module. This module is designed to be easily mounted and removed so the vehicle can switch roles as needed.
Need to get to the scene as fast as possible? Carabiner attachment points are available that allow the Responder to be carried by a helicopter, and a bracket can be added to the back for a small outboard engine for faster travel over water.
Need more lighting to work or spot people in need of medical attention? You have your choice of LED spotlights, perimeter lighting, and a folding light bar. Warning lights and a red beacon light can also be added to increase the vehicle's visibility.
Get the Vehicle You Need to Get to People who Need Help
When you need to bring rescue services to the most remote areas, it's hard to beat the Frontier 8×8 Responder S. It can travel across water and any terrain you can throw at it, and it comes with the equipment you need when treating critical injuries. If you want to extend the reach of emergency services and get people out of danger faster, visit the experts at Shank's Argo at 4900 Molly Pitcher Hwy, Chambersburg, PA. That's just off Rt. 11, or you can get here from Exit 10 to Marion from I-81. We have an experienced staff that can help you outfit a Responder to meet your needs. Not in the area? We can provide you with the accessories you need, and we can ship to any address in the U.S, no matter how remote it may be.