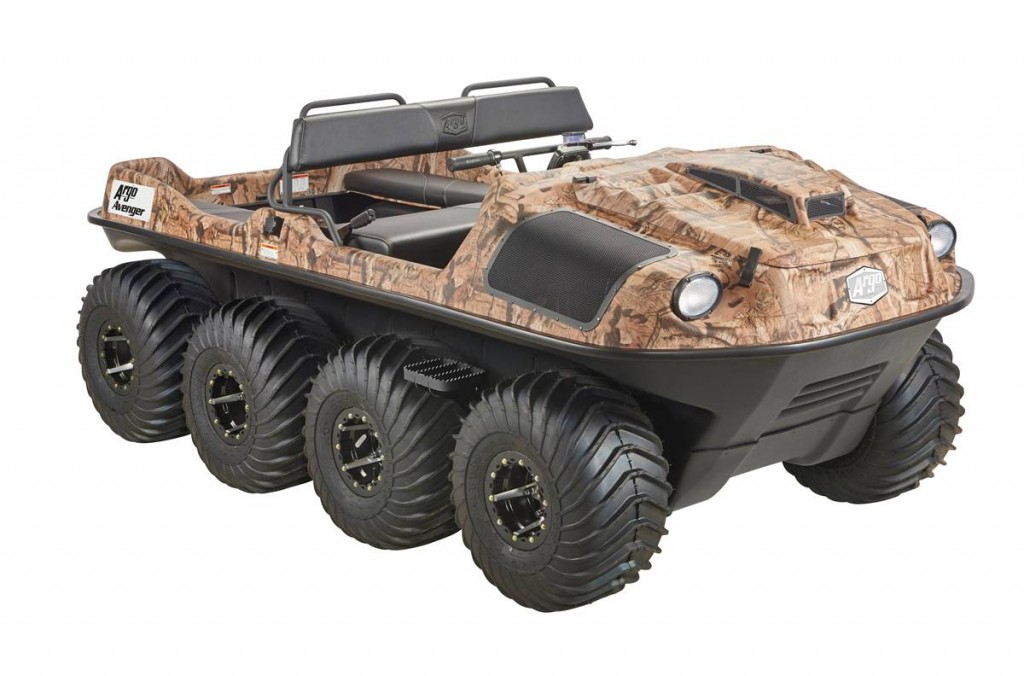 Looking at buying an Argo XTV and want something that has plenty of cargo and passenger capacity combined with an easy driving experience? The Avenger 8×8 STR can carry up to 6 passengers, uses Argo's advanced Admiral transmission for ATV-like handling, and has beadlock rims to keep the tires on when tackling the most challenging terrain.
Power, Handling, and Performance
The 8×8 STR uses Kohler's Aegis ELH7 engine. This motor produces 30 hp and uses both electronic fuel injection and liquid cooling for easy starting and reliable performance in any weather.
This engine transfers power to all 8 wheels using Argo's Admiral transmission. Its independent braking system can vary speed at each wheel for fluid turns. While it may steer like a tank, it's controlled using a set of handlebars, making operation more like a standard ATV so you can quickly get acquainted with the handling.
This transmission is available with two gearing options: standard and high torque. Standard gearing provides a balance between speed and strength, providing enough power for most situations together with a top speed of 20 mph (32 km/h) on land. High torque gearing provides added mechanical advantage for carrying heavy loads, climbing steep terrain, and dealing with lower engine power at high altitudes. This limits the vehicle's top speed to 17 mph (27 km/h.) With either option, the STR has a top speed of 3 mph (5 km/h) on water.
The STR can carry 6 passengers and has a total payload capacity of 1,045 lbs. (474 kg) on land, dropping to four passengers and a maximum of 920 lbs. (417 kg) on water. The tires provide 9.5 inches (240 mm) of ground clearance.
The Avenger 8×8 STR is designed to be used in temperatures ranging from -40°F to 104°F (-40° C to 40°C.) If you need to work in hotter climates, Argo offers a cooling system for the transmission.
Standard Equipment and Colors
Argo offers a wide range of accessories to outfit your XTV to suit your needs, some of which are already included with this model. There's a side entry step to make it easier to get on-board, a bilge pump to keep the hull dry when driving through water, and a full length skid plate protects the hull both on land and in water.
The most important feature of this model is easy to miss until you use it for some extreme off-roading. It comes with aluminum beadlock rims to keep the tires from separating from the wheel. Since this vehicle uses extremely low pressure tires to spread out the load and act as the suspension, this makes it a lot easier to tackle difficult terrain.
Argo offers this model in black, dark green Tundra, and Mossy Oak's Breakout Infinity woods camo pattern.
Why Wait?
It's hard to beat an Argo XTV when you want a vehicle that can literally go anywhere, and with the Avenger 8×8 STR, you can take you, your friends, and everything you need out on long wilderness excursions. Beadlock rims and the easy steering transmission make your trips easier, even when tackling the toughest environments.